Congratulations to Jinbin Valve for obtaining API certification from American Petroleum Institute
This summer, after a rigorous and systematic review by the American Petroleum Institute API, on August 6, 2018, two API certifications were obtained by Tianjin Tanggu jinbin Valve Co., ltd (Certificate No.: 6D-1751, 609-0149).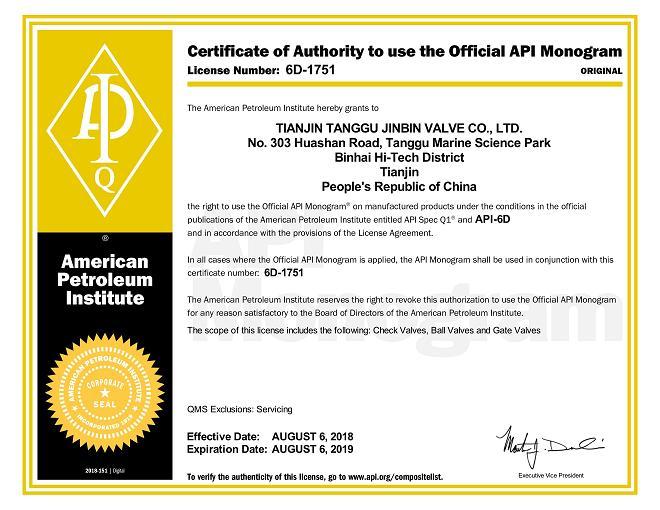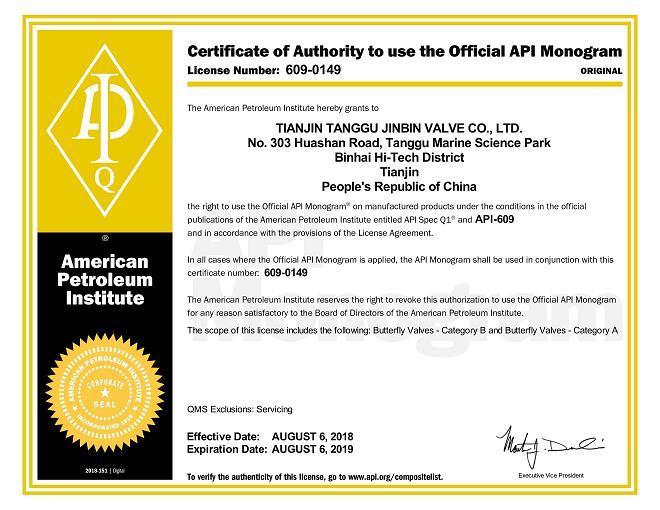 These two API certificates mark the international recognition of the API quality system of the butterfly valve, gate valve, check valve and ball valve of the company. It also shows that it is in full compliance with API specifications from product design, process control, micro-leak test, pressure test, spray coating, packaging and transportation.
Jinbin Valve API Certification Process

After discussion, the senior leaders of Jinbin Valve believe that obtaining API qualification is a strategic need for enterprise development, so a lot of manpower and resources have been invested to prepare for API certification.

The company filed an application in May 2017. In order to successfully pass the API review, we will prepare for the API certification from the second half of 2017. The company also set up an API certification management work leadership promotion group and formulated a promotion plan. The company and the factory's professionals strictly implement the promotion plan, carry out a series of work on the compilation, translation and preparation of the API system documents, and refer to the API system documents for quality, management, procurement, production, packaging, transportation, sales and After-sales service and other aspects have formed a complete set of system documents.

The American Petroleum Association (APA) came to the company in August last year to conduct a detailed review of the administration, production equipment, research and development of science and technology, equipment testing and so on. In the process of certification for nearly a year, after repeated pilot and pilot tests, and confirmed to meet the standards, in August 2018, successfully passed the API certification of the American Petroleum Association, an international authoritative body, all indicators have reached the international advanced level. Nearly a year's operation has played an important role in improving the management, production, quality and sales level of the company.

The API certification by the American Petroleum Institute shows that Jinbin Valve conforms to the modern quality management system, and product quality is stable, reliable performance, has reached the international market requirements.

Subscribe to our newsletter & be in touch.